February 24, 2020
Gagliardi
He / She said yes. Now what?
You gotta pick the team. Who's your wing man? The best man that's going to by your side all the way till you're up the aisle and not lose the rings? It's got to be someone that like your partner or your stag night is already doomed.
And here starts the planning. There's a stag night / weekend / week…. Ok leave that to the best man.
The wedding itself, opting for a trendy or a traditional, home or abroad? Festival weddings are so last year man, now we're looking to take this up a notch. This is going to be the wedding of the century. Best friends and closest family only and away from the madding crowd.
Maybe you're heading for the place you first met or last went on holiday? How about a beach wedding in the Caribbean? Tumbling hills in Tuscany? Or perhaps you're inspired by our home country, Malta?
Whatever your choice, you need to kit out your team to look and feel their best. And of course, you have to look awesome. You have to look at that photo for the rest of your life.
---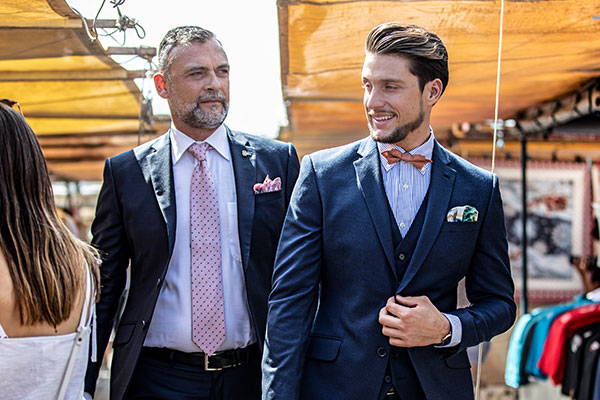 ---
WHERE DO YOU START?
Are you going traditional or trendy? Whichever, we have you covered. Off the peg mix and match combinations are available so you can look the same but different to your groomsmen. Our suits have a lot of options in terms of lapels and pockets, trouser style and shirt fit, so the rugby player, the marathon man, the shy guy and the model can all feel comfortable and look the part.
Choose from linen blends for a summer wedding – these are more crease resistant but de rigueur and come in chic sand and blues. There are coordinating waistcoats and jackets in jades, corals and teal.
The core collection, which is available all year round, has an abundance of options to create a look to suit each of you and give the individuality they deserve. Add a floral shirt, bow tie, patterned waistcoat maybe a checked or striped jacket? These are all items your team can wear after the wedding, so the spend doesn't have to be justified for a single event.
Opting for a formal evening wedding? You can allay the fears of the team that they won't look like penguins or from a period drama. This season we have jacquard jackets that add interest to a dark suit or choose a classic teal ensemble to make a statement that you are all definitely in morning and not mourning suits.
---
If the chaps are more subdued, why not add a pocket square to add some colour and to give each groomsman their own touch, why not add cufflinks to their ensemble? There are lots available in our collection to choose from; classic, silk knots to sea and nature themed ones too.
---
The best part of a destination wedding is you get chance to top up the tan if in a sunny location in advance of the day, and what's becoming a trend is having your stag and hen parties at the destination too and then the couple staying on for a mini honeymoon. And yes, we can have you covered for that too.
Leave a comment