Whether it's your wedding, or one you are attending, we think the men should give as much thought to what they wear as the ladies. There is so much choice that not everyone has to wear the same. You can kit your stags out in outfits that are related, but different and still stand out yourself.
A thoughtful gift is to choose a set of cufflinks for each of the guys, something that reflects their personality and which again can live on after the big day.
Weddings are one of the few places to have fun in a suit so make sure it's comfortable. Consider the weight which is probably best on the lighter side, the colour, we suggest going for the brighter and be adventurous with completing your look.
---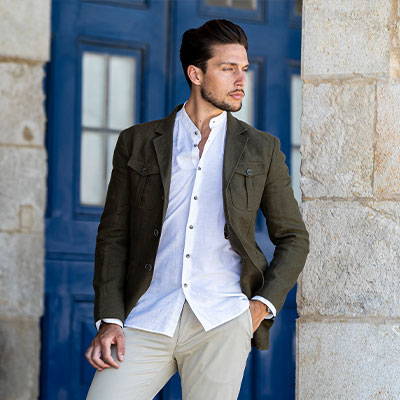 You are unlikely to know everyone there so experiment a bit. Try a floral shirt, a pocket square with colours you like but might not normally wear, or try a suit in a cut that you might think too casual or too smart for your normal everyday style.

We hope that dancing is back on the agenda soon and so perhaps an unlined jacket would be worth looking at, especially if the wedding is in warmer climes. Try linen maybe? Or a linen shirt at least if the latter is true.


Remember suits needn't be worn as suits - you should look for one that you can mix and match with other items in your wardrobe. Do, however, clean a suit as a suit so if any fading does occur, it happens at the same rate on both items.
One thing people - even those that walk the red carpet - seem to get wrong when wearing colour, is footwear. Please, and I am a shoe snob, please don't just opt for black shoes, unless wearing a black suit (which unless is a tux, you wouldn't wear to a wedding now would you?).

In some cases, you can find shoes the same shade as your suit, and if not, choose some that match your shirt or accessories. It's a wedding not a funeral, so yes, burnt orange IS acceptable, nay, encouraged!

There is a rule that states 'no brown in town' and I add ' or country clubs' to this. If an earthy shade is your best bet, try a burgundy or stone or olive shoe. Whilst a well bred woman knows not to judge a book by its cover, judging a man by his shoes is still a thing. I have a story about that which perhaps I'll share one day.
The sails are on for me for a few days, but damn the internet, I can still file my lessons while cruising the Ligurian coast, cloud spotting. Enjoy whatever it is you're doing!
Leave a comment