Wedding attire for 2022 ceremonies
One of the biggest days in a man's life is his wedding. It's not just a time to promise to have and to hold from this day forth, but also to celebrate his relationship with his family, his new family, and his crew – some having been around way before the partner.
This squad is important and will still be going forwards; having your life partner is one thing, but your mates are your mates. Whilst the big day is centred around you two, your squad, who will be by your side and have your back, need to be considered too.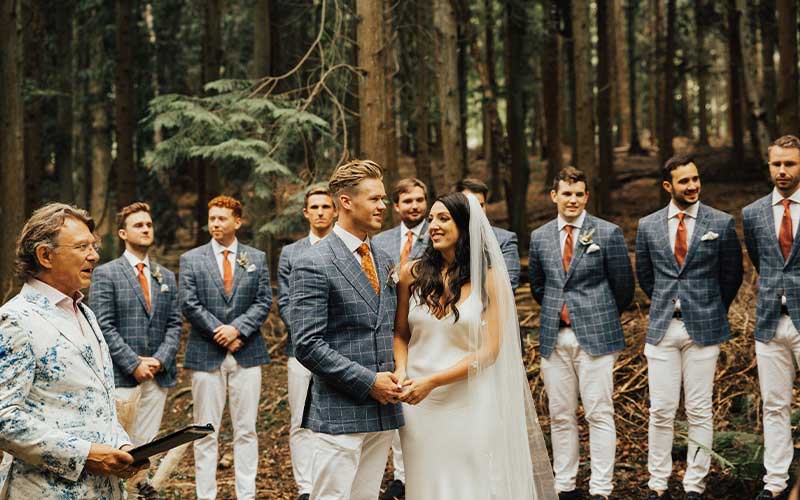 Weddings are seeing a change in trends and while some have become more casual, many are seeing them as an opportunity to dress up. The style of the wedding will have been carefully planned and it is your duty to look and feel good on the day, next to your spouse who will have been dreaming of this day for ages, and in those pictures that will adorn yours, your parents, and your in-laws' homes from here to eternity.
Gagliardi has suits that meet contemporary and classic style requirements, plain and patterned, two and three piece, formal and mix and match. It is also entirely appropriate for guests to wear a non-matching suit to distinguish themselves from the groomsmen and also have a bit of fun with a more interesting ensemble than one would wear to work.
Most groomsmen choose to have a more formal look for themselves – with minor changes for the Ushers and Bestman, and the Father of the Bride and his father often taking the same lead. The colour combination will be determined by the bridesmaids and this can be factored in using accessories – ties, cummerbunds, pocket squares etc with individual attention on each member being displayed perhaps with cufflinks that refer to their personality.
---
---
Shop the smart-casual look
---
*We are currently running a promotion on our non-iron shirts range.
Buy 3 for €150 - discover more HERE.
---
A wedding is a long planned and long remembered event, so while it is important to look good, you do need to be comfortable and not stray too far from your usual style. Have fun!
Leave a comment