September 24, 2020
Autumn/Winter
Get Your Jacket
I kid you not. As I sat down to write this week's piece, cup of tea to my right, dog on my feet, first line in my head, I thought about the products hanging next to me and how to convey the softness of the Moleskin jacket, and Googled the fabric to see what the mind hive says. The first thing that pops up is, wait for it, "Is moleskin made from mole skin?"
Now I've stopped laughing, I can tell you a bit about the fabric and its story. Moleskin is a heavy cotton with a short pile, which makes it super soft to touch, apparently like that of the skin of the mammal. Our fabrics are from Brisbane Moss, we asked them to give you an insight to their moleskin and corduroys which feature in this year's Autumn / Winter collection.
"Corduroy and moleskin belong to a group of fabrics once widely known as fustians which have been produced in the Calder Valley in West Yorkshire, England since the first half of the 19th Century. Brisbane Moss is now the largest remaining stockhouse of corduroys and moleskins in Great Britain and has outlived many of the companies that dominated the sector. Fustian in fabric terms described a strong, hard wearing woven cloth made with a linen warp – the vertical 'backbone' of a fabric - and cotton weft, the horizontal.
In some cases the smooth face of the fabric is interrupted by equally spaced ribs, or races, running the length of the piece, and these could be cut on specialised machines, prior to dyeing, to form ribs of raised pile, characteristic of corduroy as it is now known. Moleskins were generally fabrics without prominent ribs, but had a smooth overall appearance. They could be dyed and finished in many different ways and shades, depending on the particular end use they were destined for."
---
We've taken these durable fabrics and created modern pieces – in moleskin, an olive green casual jacket with a twist, it has a Nehru collar which makes it wearable for an evening too. This style of collar can be worn with a same collar shirt or a button-down or a crew or polo neck jumper.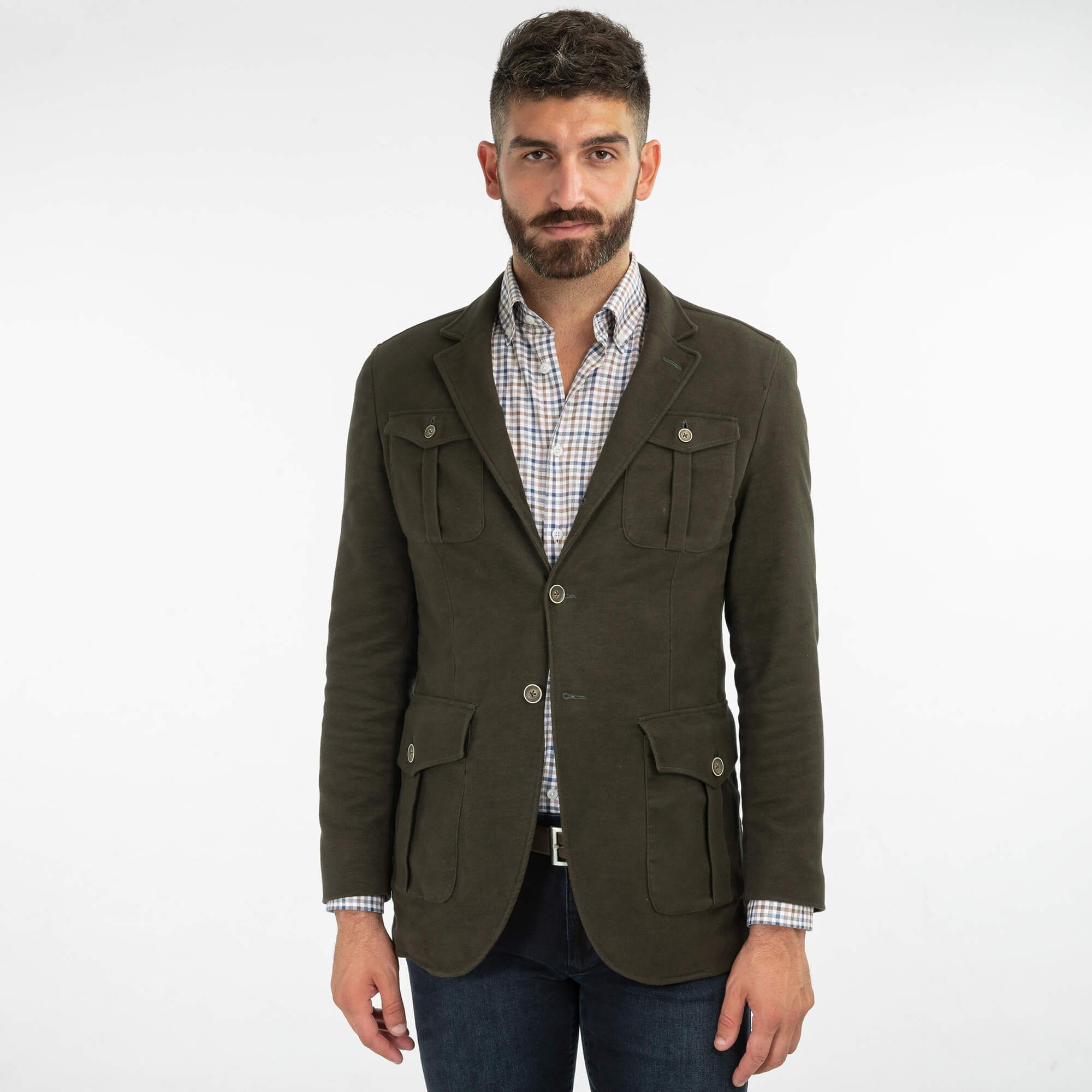 ---
Corduroy is having a major resurgence this season. Our chocolate brown jacket harks back to times of nostalgia and is as comfortable as if it was in your wardrobe forever. This is an everyday jacket and will withstand almost any adventure!
---
Leave a comment